"Moonfish": the intersection of mental health and…jellyfish?
We caught up with one of the writers behind the forthcoming film "MOONFISH", a short film about a young woman's mental health journey to self-discovery. Along with Executive Producer Ben Drew (aka Plan B), Natalia and Gabriella Kyri are two hardworking filmmaking sisters from North London. Natalia stars in the film herself, portraying Connie, a young woman desperate to escape the grips of childhood trauma that she experienced. The film follows Connie's journey towards recovery, spurred by the degrading health of her eponymous pet jellyfish – propelling her to finally make changes in her life that she has been avoiding for so long and allowing her to be free.
The Kyris are passionate about female led stories, and stories that shine a light on mental health, particularly everyday mental health issues that are so often unspoken.
Check out our interview with Gabriella Kyri, below!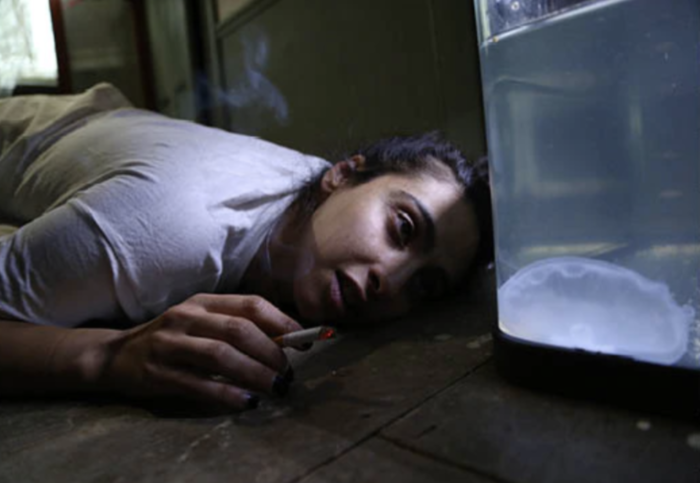 AWI: What inspired you and Natalia to create a film on the topic of mental health?
Gabriella Kyriacou : Natalia started writing poetry and monologues to express her own mental health journey and from this we felt a powerful story could be told that could relate to a lot of people. Eventually, we began developing Natalia's poetry into prose – exploring how these feelings can be expressed visually through a story arc. "Moonfish" specifically explores everyday mental health, as well as depression and anxiety that people may bury within and try to avoid. The film looks at how these experiences can manifest in our unhealthy behaviours and relationships.
AWI: What portrayals of experiences – especially around trauma – do you feel are missing from mainstream media?
GK: I feel that what is missing from mainstream media are the reasons why people get to the place they are at in life. The cause may be childhood trauma or experiences that can shape a persons future, the root of which we don't often see.
AWI: What plans do you have for the film once it's completed?
GK: We want to take it to short film festivals to promote the film and get its message out there.
AWI: What do you hope that viewers will takeaway from the film, once it's completed?
GK: We hope viewers will see a piece of art that isn't just a story but will help people relate to our protagonist – and hopefully help them to find their own voice.
AWI: How can folks learn more, and support your work?
GK: The film has been entirely privately funding so far, but we're currently seeking further donations to tell the story as best as we can. This includes things like the kit, crew and locations we need. The film will be approximately 15 minutes total running time.
Curious and/or inspired? Learn more about "Moonfish" and how you can support their campaign here! You can also follow the film journey on Instagram.
---
All content on Art With Impact is available to all, free of charge and without ads. If articles like this are valuable to you, please consider supporting Art With Impact.
This matters!