Forthcoming Documentary 'JUST EAT' Examines the Deadliest (and Most Underserved) Mental Illness
Looking at statistics and portion sizes in America, you might assume that very few people need encouragement to eat.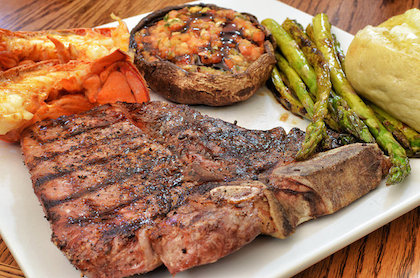 Commence the meat sweats.
For four per cent of Americans, however, the struggle of living with an eating disorder is something they will face head-on at some point in their lives. And while that might not seem like a lot of people, the mortality rate provides enough shock value to go around: eating disorders have the highest death rate of any mental illness, and the numbers don't seem to show any sign of slowing.
Filmmaker Laura Dyan Kezman was one of the millions of young women living with an eating disorder when she was diagnosed with anorexia eight years ago. Four years after her diagnosis, she became aware of the magnitude of people suffering from eating disorders, and their invisibility in the eyes of a healthcare system that largely ignores them. Feeling compelled to bring this issue into the spotlight, Laura began work on her documentary, Just Eat.
Having already shot in several states across the U.S., Laura and the Just Eat team are promising to deliver what they claim no other film has produced before: "replacing the ill-informed idea that eating disorders exist solely on the covers of fashion magazines with the pressing issues of insurance denials and federal oversight, [so that] the way we talk about them will change."
Why the oversight? Stereotypes and stigma seem the most likely culprit. Despite eating disorders affecting both men and women of all cultural and ethnic backgrounds, they have a reputation of being a disease of privilege — the pet conditions of supermodels and affluent women with nothing better to do than count calories and obsess over appearance. But the high death rate and permeating presence of anorexia and bulimia can't be denied, even if those who live with the illnesses are often denied coverage for treatment. And that's supposing they've made the leap to ask for help; shame surrounding eating disorders is high, and those who live with them often treasure the privacy and secrecy that allow them to continue their dangerous habits. But for those who seek help, it often isn't there: to put numbers to it, the National Institute of Health spent $84 per schizophrenic individual in 2011, while allotting only $0.93 for individuals battling eating disorders.
Just Eat is currently seeking funding via Indiegogo to finance their final months of shooting, as well as post-production and festival submission fees. If you'd like to help Laura and her team bring this important film to life, go here to learn more. If you're unable to help, don't worry — Laura makes it clear that "[t]he film will be completed. No matter what."
Best of luck to Laura and the Just Eat crew in completing what will certainly be a fantastic tool for mental health advocacy.
---
All content on Art With Impact is available to all, free of charge and without ads. If articles like this are valuable to you, please consider supporting Art With Impact.
This matters!