Illustrations for Awareness
My name is Karthik, and I'm from Bangalore, India. I work as a freelance artist (painting, illustrating and content writing) and am a tarot reader. I've become more passionate about mental health awareness, and in the last two years I've been collecting personal stories and simultaneously have been learning more about symptoms and diagnosis. As a part of this project, I have illustrated many of these tales because for me, visuals can have a stronger impact to spread more awareness and empathy. The stories have been collected from in-person interviews or through mental health forums (most of them who I don't know at all but readily agreed to share their stories), or from people whose struggles I know personally. Whether they want to remain anonymous or did not mind their name being used, I have promised all of them anonymity.
The stories have been collected from people all over the world, as mental health issues aren't a localized problem and when we all come together as one, we can easily beat this.

As for my connection to the arts and mental health, I was a biologist some years ago but I wasn't enjoying what I was doing. I wanted to get into art as this was my passion all throughout my life. I now work as a freelance artist and celebrate different forms of art. My art varies from contemporary paintings to real life inspired illustrations to writing poetry and crafting. Being an empathetic person, I wanted to make changes through my art by addressing the real issues around stigma and taboo attached to mental health. It's no secret that mental health is still a taboo in many cultures and I wanted to address it and spread awareness in my own way.
Check out some of Karthik's illustrations and collected stories below: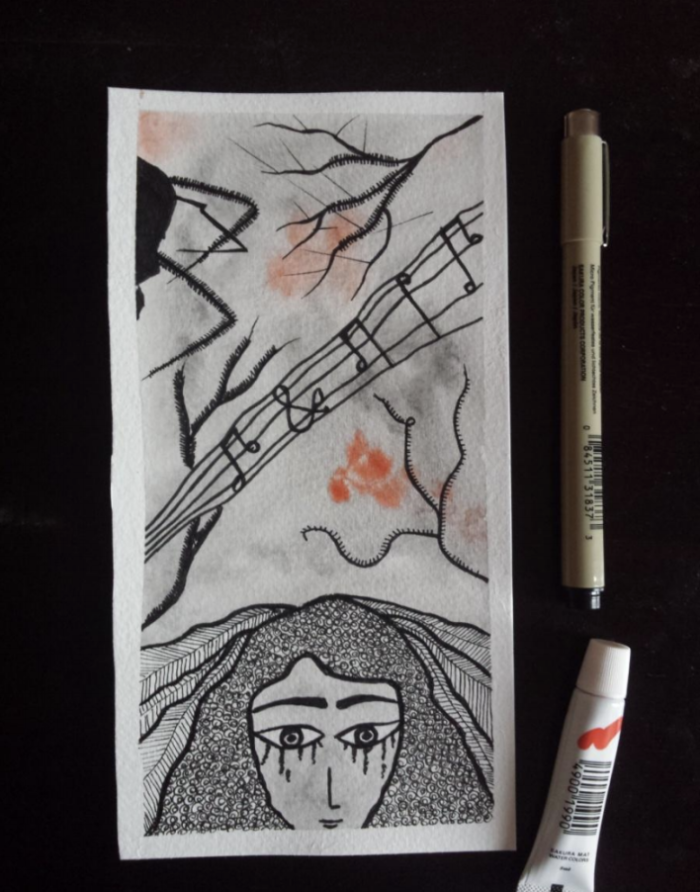 "They say I appear withdrawn and unresponsive. Apparently I don't express 'normal emotions', like I used to do before. People say I may be a threat to them and speculate that I suffer from a split personality disorder. That is so mean of them. I don't really see my behavior changing. Sometimes I see beautiful images like I am in a dream, and sometimes I see dark, dark entities trying to harm me. I hear musical notes which can be very soothing but other times they're noisy and unbearable. I am convinced that I am 'constantly being watched', though I still can't garner' enough 'evidence' as to why I am so important."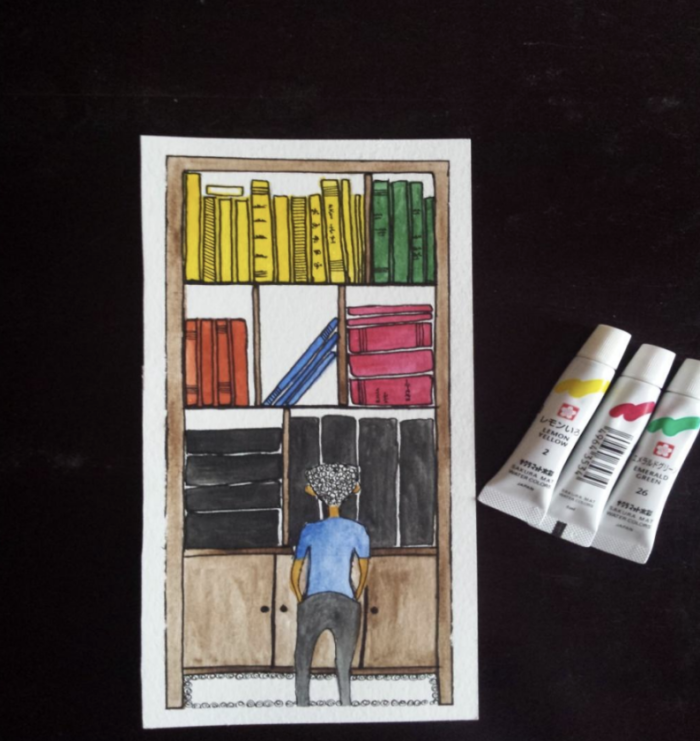 "I have always been religious and God fearing. But recurrent forbidden thoughts about God and religion and thereby me committing 'blasphemy' in my mind makes me very anxious. I spend hours to pacify myself that 'it is my mind playing games with me and it can never be true'. Apart from that, I am always extremely paranoid about cleanliness. I have an extreme obsession to organizing things in a particular format. For instance, the way I keep my books and clothes in the cupboard; if for any reason they are misplaced I get extremely anxious and spend hours in putting it back to the original way. I'm always checking things for safety, not less than 10 times. People never understood me and they mock my idea of 'cleanliness'. They never would 'understand' how difficult it is for me to tread through every day. In my all honesty, I too wish to get rid of these obsessions and compulsions and lead a normal life but I know I just can't."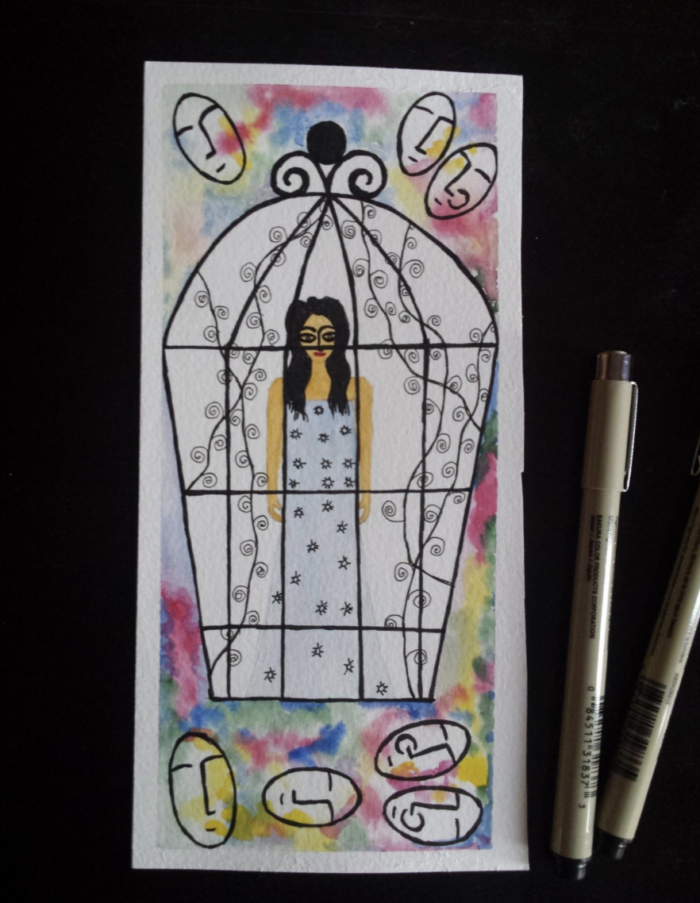 "Social interactions, from 'small' things like going to a party or talking to a stranger to 'big' things like going on a date or attending an interview causes enormous distress in me. Though I avoid most of these social situations, sometimes it's not possible to. I get very 'self conscious' and I set 'unrealistic high standards' to behave well, in spite of knowing I can't; constantly being under the fear of being judged or criticized. Later I spend hours and days analyzing, or how I could have handled the situation differently. Sometimes, I feel that I am a caged bird, who is trapped by my own mind. Will I ever be able to free my mind from the captivity? Will people around me be considerate enough to make the environment 'conducive' to it?"
---
Check out more of Karthik's work on Instagram!
---
All content on Art With Impact is available to all, free of charge and without ads. If articles like this are valuable to you, please consider supporting Art With Impact.
This matters!