New feature film JUST SAY GOODBYE explores teen suicide
Matt Walting is making his directorial debut with the newly released 'Just Say Goodbye', the story of a young woman trying to save the life of her suicidal friend.
After enduring years of abuse from his alcoholic father and the school bully Chase, Jesse Peterson tells his best friend Sarah that he plans on taking his own life. After promising to tell no one, Sarah finds it upon herself to try to stop him, taking any means necessary.
Written by Leyla O'Shea, we caught up with the team behind 'Just Say Goodbye' and Matt was kind enough to answer some of our questions. Read on!
Art With Impact (AWI): Where did the idea for the film come from, and tell us about the creative team behind it!
Matt Walting: The film was originally written by Layla O'Shea several years ago, based on an experience she had with her friend when she was younger. Her daughter, one of my closest friends, showed the script to me back when we were in middle school and I fell in love with the script immediately. I was still working on developing my skills back then and was in no place to be directing and producing a feature, but sophomore year of high school rolls around and I finished up a short film and was feeling super motivated to make a film. Having nothing of my own to make, I asked Layla if she'd be willing to adapt her film into a short. Several meetings later, we decide we have to make a feature. We eventually got Jeff Simons, an Emmy-award winning broadcast director, on the team as director of photography, and honestly he ended up being the biggest asset to making this production as powerful as it was. He was always motivating us to finish this film because of the importance of the message.
AWI: What steps have you taken to ensure that the film approaches mental health in an honest, authentic and stigma-free way?
MW: I wanted to focus on the internal and immediate external battles those with mental health issues may face, and what can happen if pushed to the extremes. The film follows the story of Jesse and Sarah, and their dynamic as duo, and so capturing how the two interact and change as Jesse is threatening to take his life. On set, I sort of stepped away from directing Max and Katerina too much. I wanted them to have total control over their characters, letting them channel their own emotions into the scenes in order to create more authentic reactions and responses to each other's stories. I let them interact as actual friends facing this issue.
AWI: What portrayals of experiences – especially around suicide – do you feel are missing from mainstream media? 
MW: Often times in the mainstream, stories revolving around suicide tend to fall very dramatically, and involve a lot of different dynamics and changes between characters. This story sort of focuses on the truth of suicide, and the feeling of being alone. Even with Sarah, Jesse still feels like there's no one there for him, and that feeling of being alone is what really takes a toll on the individual. The mainstream also misses the mark on utilizing stories with suicide to teach audiences about what to do. My community lost three boys to suicide since we started working on this film, and it's so incredibly important to talk about it, recognize it, and teach others how to handle these very serious situations.
AWI: Can you tell us about the more challenging aspects of creating this film?
MW: To this day I'm still asking myself if we got it right. It's such a tricky subject and throughout the entire process of preparing, filming, and editing, I was asking myself 'Is this working? Is this okay for audiences? What would people pick apart?' There's also the fact that I was still only a sophomore in high school when we went into production, so to have only 15 days –  weekends only – to shoot on a mere few thousand dollars that we fundraised, it was very tricky, but I'm so grateful for everyone that came together and volunteered to make it happen.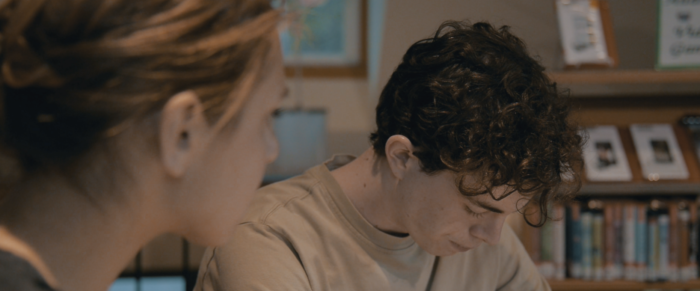 AWI: What do you hope that viewers will take away from the film?
MW: I want viewers to recognize the importance of reaching out for help.
The biggest problem that teens face, especially in situations like these, is the desire to try to solve problems on their own, even if they know they might not be able to.
I'm just getting out of that phase now, and it isn't a helpful way to support yourself or others. We want younger audiences, and even older audiences, to see the importance of reaching out for help if something is out of your control. Help is always out there, and even if it's rejected, like in Jesse's case, there are other ways, you just need to ask for someone to help you find them.
*More about Matt Walting: An independent filmmaker based in Western Massachusetts, Matt began his career in theater at age 8, and discovered film at age 10, when he was cast in a college production. He gained more interest into the mechanics of filmmaking, studying and practicing with multiple short films and small projects. Since starting Just Say Goodbye, Matt owns and operates Walting Entertainment, LLC, an independent film production company. He studies film at Emerson College in Boston, MA.
---
Want to see 'Just Say Goodbye'? LA folks can view the film for its one week theatrical run until May 18, 9:30pm each night at the Regency Theater in North Hollywood. It's also available on Amazon and DVD. Learn more here!
---
All content on Art With Impact is available to all, free of charge and without ads. If articles like this are valuable to you, please consider supporting Art With Impact.
This matters!