Last Call: How one filmmaker explores depression and suicide through single-take cinema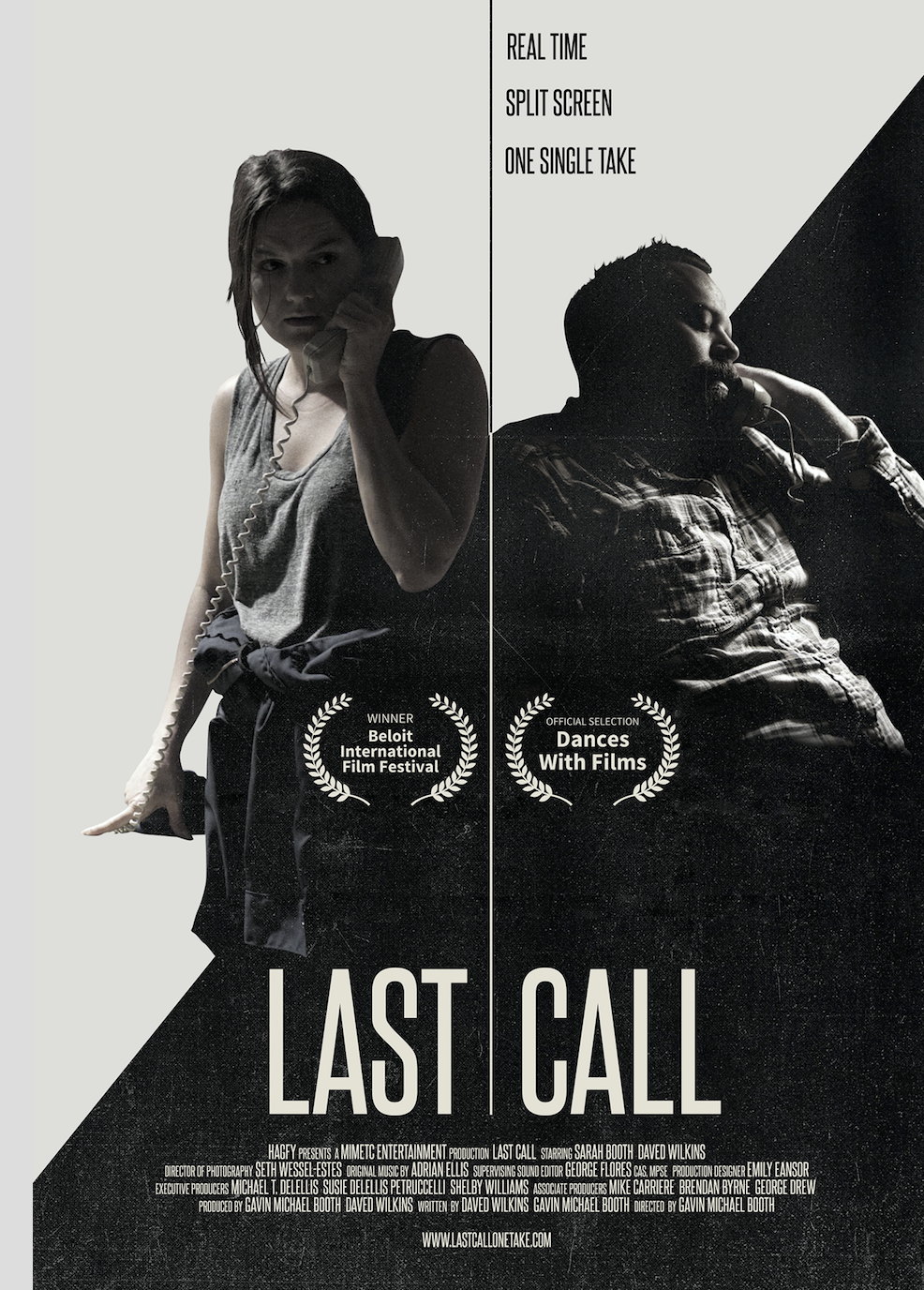 by Sharon Nyarko
For someone who has long experimented with real-time, single-take cinema, filmmaker Gavin Michael Booth has shown us yet again how his art can be resurrected and given new life.
His latest multi-award-winning project, Last Call finds its own space on the mental health landscape as it boldly takes on the story of a man living with depression who tries to call a crisis hotline but accidentally calls a single mother working the night as a janitor at a community college.
There is an impermeable resilience and vulnerability the film brings as it combines the freedom of indie exploration with an affecting confessional character piece that easily swallows up more of the world around you as events unfold.
It's not often that we see movies shot real-time in two single takes, filmed simultaneously in two different parts of a city and edited in split-screen.
So, when Gavin green-lighted an interview, we were excited at the prospect of learning more about the creative process behind Last Call, the power of storytelling, and imbuing single-take art with a sense of empathy.
Watch the trailer and take an inside look at the film with Gavin Michael Booth below:
Art With Impact: What inspired Last Call?
Gavin Michael Booth (GMB): I've been creating single-take music videos and a few short films in this same style, always with the goal in mind to create a single-take feature. Daved Wilkins – whom I co-wrote and produced the film with – came to me with the kernel that became Last Call.
Over coffee one day Daved was talking about the idea of a man calling a suicide hotline in a single-take. Quickly, it expanded to seeing both sides of the story at once. I was hooked with the concept and finally having something I knew we could budget for at an indie level and get a real-time, single-take film made.
We ultimately switched the crisis hotline worker with the character of Beth, an ordinary woman, not experienced in handling a call like this. It gave us much more freedom storytelling-wise and we wanted to respect the work that crisis operators do everyday all over the world.
Tell us about the creative team behind the film!
GMB: The film stars Sarah Booth (Fox's The Moodys, American Horror Story, Law&Order: SVU) and Daved Wilkins (Super Bowl Doritos Time Machine Commercial, The Mindy Project).
I'm the director; previously I created the world's first live film, Fifteen, with Paranormal Activity and Get Out producers Blumhouse. Prior to that, I wrote and directed Universal Studio's horror film, The Scarehouse, and have directed over 100 music videos.
Composer Adrian Ellis recorded the film score live in a single-take to match the energy of how the movie was filmed. Adrian and myself have previously collaborated on a feature and many short films.
The performances in this film are so powerful and immediately strike a strong emotional chord. What was your perspective on bearing witness as a filmmaker?
GMB: It was amazing to watch the characters evolve.  The real trick in directing is to cast actors you full trust in the roles and half your work is done for you. Both Sarah and Daved worked tirelessly to hone their characters in.
We started with rehearsal over the phone! I was in one city, Sarah was in Montreal filming another project, and Daved was home in Los Angeles.
Right off the bat we decided they shouldn't be in the same room to rehearse to keep them in the headspace of how the film would be performed. We would film every rehearsal and I was able to roughly assemble the rehearsal takes into a film to watch back over and over.
This is how I gave notes and made adjustments. The actors and the crew had to do everything as they would on the day in order for us to perfect the single-take.
The film was shot in two single takes and filmed simultaneously in split-screen! That makes for an incredibly immersive viewing experience but you also have talked about the energy and the franticness of not being able to cut footage or make hidden edits. Was that the most challenging part of directing this short?
GMB: Absolutely. Normally you are shooting shots that are anywhere between five seconds and a few minutes maybe. Having two camera crews in different parts of a city, calling action and then expecting the entire film to work out flawlessly is a massive undertaking.
Our lighting team had to hide every cable, the camera are rotating 360-degrees through each space, we have scenes on the street, driving in a camera, moving in and out of buildings. The actors are connected over the phone only to hear one another.
We did this film on such a shoestring budget; looking back I'm not sure at all how we did it!
It really comes down to saying "this is what we want to create" and diving in head first. If we had thought about the challenge too long ahead of time, we may have talked ourselves out of it.
Most of the time you won't fail because by doing what is scary or labelled impossible by others is exactly what you should be creating.
Why do you think it's important that we use art to approach talking about mental illness?
GMB: Storytelling teaches us so much of what we learn in life and especially when growing up. It teaches us about morals, about friendship; our parents tell us stories to help guide us and make us better people.
Mental illness should be no different.
It has been a very misunderstood and misrepresented topic in all aspects of life for too long. I'm happy to see that a greater understanding of it can come through song lyrics, theatre, performance and storytelling on the screen. What better place to start a conversation on mental health than at the cinema?
People tend to discuss movies and pop culture, often it is the topic of the film and the events and emotions afflicting the characters that are at the center of that discussion.
What do you hope will happen as a result of the film?
GMB: We strove to tell a story we believed in and make a film in a very rare format. We wanted to make a piece of entertainment.
What we've seen during Q&As and talking to audience members in many cities (and countries!) is that the film starts conversations, and evokes a deep, emotional, and human response from people.
I hope that the film can find mainstream distribution and reach more people the same way it has reached our initial festival audiences.
What advice would you give to those looking to break into filmmaking, or any other creative industry?
There is only one piece of advice that matters: create. Never stop. Never set your dreams aside. Create. Fail. Create more. Fail again. If you are a creative person, you have to create.
You can create slower than others; it isn't a race. If you face personal difficulties, setbacks or even time away from your art, that doesn't matter. Pick up that pen, grab that camera and charge back into battle.
You will never hurt your creative soul if you are in the pursuit of your creative dreams.
Collaborate too! Find like-minded individuals or people that understand your mental illness and are compassionate, creative partners. You always want to work with fellow artists that will support you and work with you to achieve your goals.
What else are you working on at the moment?
GMB: I've just released a new music video "SYML – Everything All At Once", have two short film projects "Squeal" and "Rent Do" releasing on the horizon and then have completed filming on a new feature film "Primary" and two new short film projects.
View more trailers on the Last Call website!
---
All content on Art With Impact is available to all, free of charge and without ads. If articles like this are valuable to you, please consider supporting Art With Impact.
This matters!