Announcing our Voices With Impact grant recipients!
…And the results are in!
Art With Impact (AWI) is delighted to congratulate the ten filmmakers who have each been selected to receive a Voices With Impact film production grant!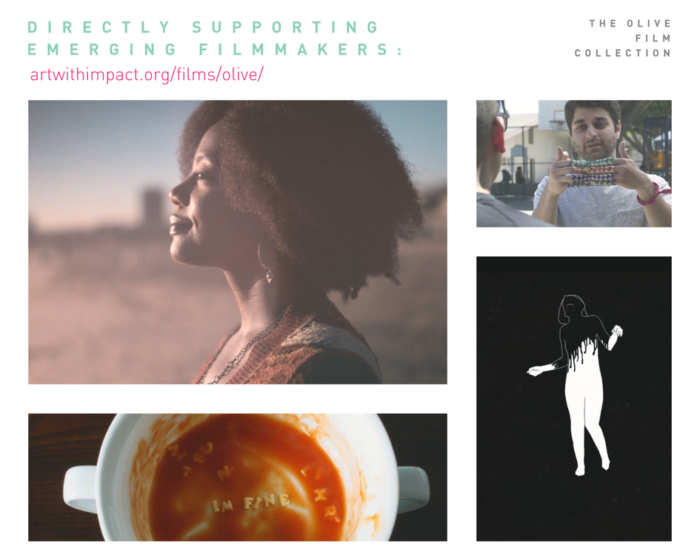 If you know us, you're aware that we firmly believe in the power of film to create positive social change. And because mental health is such an individual experience, art is a perfect way to address this personal and complicated topic. When we experience art we're not having a linear, didactic experience – we're having a whole person experience. That's why since 2012, we've grown The OLIVE Film Collection to be the most diverse library of short films on the topic of mental health. Through an ongoing, monthly short film competition juried by filmmakers, mental health professionals, and college students we have built a collection of 52 films that represent a wide range of topics from filmmakers with diverse identities. We are extremely proud of the collection and invite you to browse it here!
Despite the compelling diversity of our collection, however, important voices remain underrepresented. And there are consistently stories that are not shared. Why? Well, we'd wager this to be for a couple of reasons. First, the topics that The OLIVE Film Collection is missing are especially stigmatized, leading to fewer people creating work on these topics. The second reason has to do with systemic, long-term structural inequality for the groups of people whose voices we wish to amplify.
All this to say: to improve inclusivity and create opportunities for lesser-heard voices and stories to be in the forefront of the global conversations, we spread the word about our new 'Voices With Impact' (VWI) production grants between August to October among filmmakers interested in creating shorts on the following two topics: the mental health impacts of sexual violence, and mental health experiences within Indigenous and Native American communities.
Thanks to the generous support from: the California Mental Health Services Oversight and Accountability Commission, the McQueen Family Foundation and the California Institute for Contemporary Arts, and our amazing panel of judges, we are pleased to provide ten $5,000 filmmaking grants to address the two topics listed above.
With that – join us in congratulating the following filmmakers:
Sexual Violence
Indigenous Mental Health

Maya Bastian
C. Nathaniel Brown
Emilie Cheung
Kristin Kinsey
Dominique Nieves

Tomás Karmelo Amaya
Victoria Anderson-Gardner
Jonathan Elliott
Georgina Lightning
Coleen Rajotte
These ten amazing artists will spend the next three months creating films that amplify underrepresented experiences relating to mental health – and ultimately – social justice at its core. The created films will be featured at a premiere in Los Angeles June 2019! We wish these filmmakers and change-makers as they embark on their journey and change the world with their art! They will be paired with filmmakers, mental health professionals, and subject matter experts to consult, in addition to their own community partners and personal expertise.
A huge thank you everyone who submitted proposals. We really appreciated the opportunity to learn about your story and ideas, and the work you're doing on these important topics are powerful and absolutely needed in this world <3
---
All content on Art With Impact is available to all, free of charge and without ads. If articles like this are valuable to you, please consider supporting Art With Impact.
This matters!