"What She Said": AWI Exclusive Interview!
What do you do when an all-female filmmaking team introduces 
you to a film shining a light on the aftermath of sexual assault? 
You interview them, of course! We were excited to connect with 
Jenny Lester, co-founder of Shallow Grave Productions, a company
 firmly rooted in the belief that art has the power to change conversation
 and create movements towards education and social justice.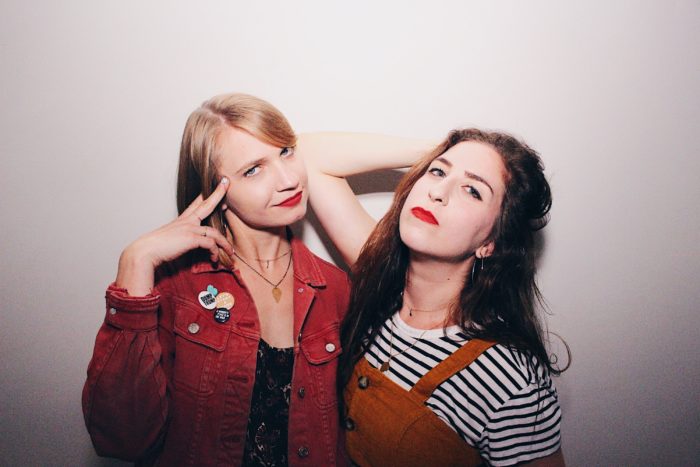 Jenny and her team just wrapped up principal photography for the forthcoming film What She Said, following a woman deciding whether or not to continue pursuing charges against her attacker. What She Said is ultimately a story of trauma and healing, telling the story of a survivor's community that rallies around her — in an all-too-human way that often includes saying or doing the wrong thing. Add onto that the backdrop of the judicial system, and you have a film that's extremely timely.

We chatted with Jenny about the process of making the film, why it's unique, and why community is so important when it comes to the mental health impacts of sexual violence. Be sure to read and learn about how you can support the film in its next stage of post-production!

AWI: What inspired you to create What She Said? How did the idea begin and when?
Jenny Lester: In 2016, Buzzfeed published the testimony of the woman who was raped by Brock Turner. She spoke directly to him with such clarity for almost thirty minutes knowing that he was probably not going to be held accountable for what he did to her. How eloquent this woman was on that stand — and the strength it required for her to be a able to do that — stuck with me in such a profound way. I just found myself rereading the testimony every couple of months and asking, "who was this woman before this happened?" "What does the version of her look like that isn't on this stand — the version that's a friend and a girlfriend and a sister?" I realized I wanted to tell the story of a woman's life outside of what happened to her. I finally put (metaphorical) pen to paper maybe a year later.

Why is your film different / what aspects make it unique in approaching the subject?
JL: So often, when survivors are portrayed in the media, they're portrayed as victims only. We get a very two dimensional version of a person; like, "woman-who-was-raped-by-so-and-so." I felt really strongly about portraying a woman intent on not being defined by her sexual assault. She just wants to be done with it and get back to her life; her dissertation. In writing a family drama, I was able to let Sam's relationship with her friends and family speak to who she is. In fact, I started building the community of characters around Sam before I even dove into her. Our film isn't another SVU episode, it's not trauma porn — it's a movie about community and healing.
How does your film portray how a community responds to trauma?
JL: Sam's story is set a year after her assault. She's trying to heal and her family and friends are trying in their individual ways to be supportive. Moreover, she's up against a judicial system that is utterly failing her.
I don't think we see enough in the media about what survivors are actually up against when they choose to come forward.

Jenny Lester
The difficulty of pursuing a sexual assault case is such a deterrent for survivors that it's incredibly rare that a case even makes it to trial. What She Said, more than anything, is underscored by a whole lot of love. At the root of this story is a group of friends who love each other, even when they're incredibly overbearing or totally in the wrong. On set, I had a couple of crew members who kept asking, "okay but who's the bad guy? Who's right and who's wrong?" And I kept being like "YOU GUYS THAT'S THE WHOLE POINT! THEY'RE ALL HUMAN! THEY'RE ALL DOING THEIR BEST!" It sort of became a running bit, haha.

You describe the film as a 'darkly comedic family drama'. What was the process like for you, approaching a serious topic with a comedic twist?
JL: I'm an actress first, before I'm a writer or a director. So I approach all of my scripts from character. I am 26 and aware that I pretty much don't know anything about anything, but I am fascinated by human behavior and do know that absolutely nothing in life is completely serious or completely comedic. In my own life, I tend to approach serious things with a sense of humor and that's my own coping mechanism. At the center of this story about a group of millennials, are three whip-smart Jewish siblings, so there's a very wry, sarcastic shared familial short-hand in which they all communicate. There's a lot of eye-rolling, haha. I wanted to dig into those moments in life where things feel so beyond our control and we feel so broken that all we can do is laugh.
What She Said Seed and Spark Campaign Video from Shallow Graves Productions on Vimeo.
What plans do you have for the film once it's completed?
JL: We're hoping to screen at a number of festivals early next year, and then follow up with a nation- wide educational tour. Our incredible director, Amy Northup, is also an educator, facilitator, and advocate, and she will be spearheading sexual assault prevention programming that we will take to college campuses in tandem with What She Said. We'd of course then love the film to find a home on a major streaming platform.

What do you hope that viewers will take-away from the film, once it's completed?
JL: I really hope viewers see themselves in this film. Either as a survivor, to be able to say "I've felt that," or "I've wanted to lash out and say those things." Or that viewers see themselves as a member of Sam's community. There's the sister whose response is to be a social justice warrior, the brother who wants vengeance and is suddenly aware of his own capacity for violence — the college friend who has just completely checked out because he can't deal, etc. etc.
My hope is that people will reflect and realize what their own knee-jerk responses are to trauma within their own communities.

Jenny Lester
I'm not going to pretend we're out here starting the conversation about sexual violence and its prevalence in our culture. In fact, it's currently at the forefront of our national conversation. (It was so surreal to launch our film's campaign the same week as the Brett Kavanaugh hearing.) But if we can add this small story to the conversation; one human story of one woman's experience that maybe makes people look at the topic in a new way, then I think we've done our job. I can't tell you the number of people involved in the film who have been saying to us, "I just had no idea. I had no idea it was like this." Or how many (men especially) telling me they've never "known anyone who's gone through this." I'm like, um, if you've ever been in a room with women in it, you've met someone who's gone through this.
A team of 26 sounds epic. Tell us about your all-female crew!
JL: It was THE BEST. We weren't sure how personalities would mix or if everyone would get along, but the cast and crew bonded incredibly quickly. Being surrounded by women helped create a safe and supportive environment, which was a priority for us in working on tough emotional material. One of our crew members was also a Rape Crisis Center Hotline Counselor, and we had an on-call local therapist who graciously volunteered her services for our cast and crew as some days could be really intense and triggering. And thank god we had such a wonderful team, because nothing about making this film was easy. We were on top of a mountain in a tiny cabin in Virginia in the middle of winter thirty minutes from the closest Wal-Mart. There were BIG logistical problems every day. In fact we renamed problems, areas of opportunity. We often had our full crew, from our director down to our interns, outside pushing our stuck G&E truck out of the mud. (And of course we had a couple token guys on our team who we just adored.)

For those interested in supporting "What She Said" what will funds support?
JL: Everything from Post-Production to distribution. We are currently raising the funds to get the film edited, color corrected, and sound mixed. We have a number of incredible women writing original songs for the What She Said score, and we'll need to pay for those recording sessions, as well. Then, we'll turn our attention (and our funds!) to getting this thing out into the world! We are partnered with Pitch Her Productions, a 501c3 non-profit that supports female filmmakers, so all contributions to What She Said are completely tax-deductible.
If you'd like to make a contribution, you can do so HERE. For further investment inquiries, please email [email protected]

---
All content on Art With Impact is available to all, free of charge and without ads. If articles like this are valuable to you, please consider supporting Art With Impact.
This matters!