Akayla's Story
Everyone has a mental health story. At Art With Impact we believe that talking about it shouldn't be taboo. Each year we serve thousands of college students throughout the U.S. and Canada. Each of them has a unique, powerful, and important story.
This is Akayla's.
---
"I'm either going to go home and kill myself, or I'm going to find some kind of alternative."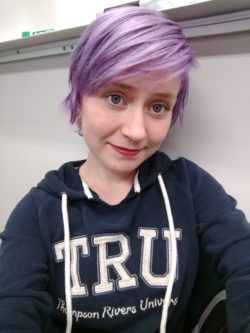 I was 18 years old, and this was the realization that kicked off a long period of homelessness, instability, and constant moving. It was also the decision that turned my life around, making it possible for me to be who I am today: a college student, a dance teacher, a youth mentor and an active member of the community.
Just as everyone has their own mental health story, we all have our own paths to wellness.
I started experiencing mental illness at an extremely young age. I was five when I had the first symptoms of anxiety and general panic disorder. By age seven my illness had progressed to full-blown Obsessive Compulsive Disorder. Like many people, my family was unable to provide me with the really specialized support that I needed. On top of that, I was bullied at school not only by my peers, but even by a teacher.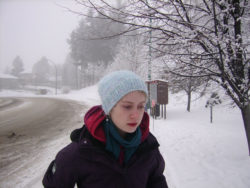 I needed help. But as a child there was no way for me to know how to get it, and I lived in a very small community — a small town where mental health resources didn't yet exist. 
So when I was 12 years old, after years of struggling on my own, dealing with self-harm issues, and experiencing increasing symptoms of mental illness, it basically went from "no support" to suddenly, "emergency… get her into somewhere!" I went to school one day, then my parents picked me up halfway through the day and took me to the hospital, and then it was: "you have anorexia nervosa, you're going to be in the hospital for a while, we're going to try to keep you alive."
At Children's Hospital, I met a doctor who was able to provide me with actual information about the illnesses behind all the things I was experiencing. I learned terms like body dysmorphia, major depressive disorder, and obsessive compulsive disorder. That was a huge turning point for me: knowing what was happening, and why things were happening the way that they were was really really helpful for me.
My first inpatient stay was four months. When I was released I was physically better, but mentally I was still incredibly fragile. Soon after I was released I attempted suicide. What followed were seemingly countless stints in psychiatric units, with both out- and in-patient treatment taking up most of my adolescence.
Experts don't normally tout homelessness as a major positive step in the road to recovery, but for me it was the only path I could take.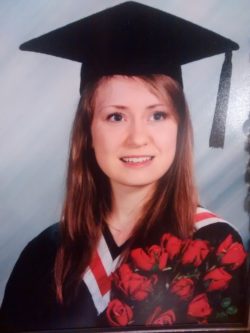 It was soon after I graduated from high school that I realized that I could not go home. I clearly remember the specific moment when I understood that. And once I understood my options I genuinely didn't know if I would make it through the night. Bawling and in total break down mode, I managed to find my way to my counseling office.
Miraculously, someone was there after hours, and I was referred to a safe house. What followed were months of instability and upheaval. I was constantly moving from safe house to safe house until I was finally admitted to a transitional housing program for youth, where I could relax and breathe, knowing that I had a few months of stability ahead of me. But this sense of stability was tragically short… I soon discovered that I was scheduled to "age out" of the program once I turned 19, before my six month stay was even up.
I was very lucky because I wasn't addicted to drugs, I didn't have behavioral issues, and I was quite good with authority figures. So I might get to stay up to a month, as opposed to a week.
There were several positive things that came out of my time being homeless. One of those was that I realized that there were people who were willing to help me, and if I were willing to accept the help, it would kind of be okay. And that was something that I had a really hard time with before hand — accepting help — because I felt like I had to do everything on my own.
Amazingly, with only a month to go before my 19th birthday, I was admitted into another transitional housing program for older youth. It was there that I met Miranda, a beautiful person who is, to this day, my best friend in the world. Having support and being able to provide support to another person was so powerful. I finally felt like I had what it takes to build a life for myself.
In September 2014 I moved into my own place with my best friend, Miranda, and my partner, Travis. I was no longer homeless.
This is the very beginning of my story.
Living on my own isn't easy. In some ways, living in a housing program was much better for me because there were built-in support mechanisms and people checking in on my regularly. But I have a lot of different coping mechanisms that I use to maintain balance. I make sure to go to my therapy, group therapy, psychiatry, and doctors appointments, and I try to keep on top of my medications. I also make sure to incorporate elements of self care. As an introvert, it's important for me to take time for myself doing things like re-reading the Harry Potter books or re-watching my favorite movies or tv shows. However, as someone with a history of isolating myself and engaging in self-destructive behaviors, I try to balance solitary activities with things like cheerleading on the team at my university.
If there's one other person who's going to survive this because they now realize that it's possible? Great.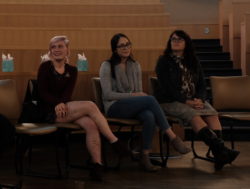 One of the things I've learned with everything I've gone through is that telling my story is powerful. I had spoken at events on youth homelessness and mental health, so I was pretty comfortable with the idea of telling my story. When the opportunity came up to speak at Movies for Mental Health I was especially drawn to it because of the connection with the arts, which have always been a big part of my life.
I grew up dancing and in theater and doing all these things that I loved, so combining mental health with the arts was a big thing for me. But that didn't mean it's an "easy" thing to combine. Watching the videos was a little difficult. At the Movies for Mental Health workshop at Thompson Rivers University we watched a film about suicidality that was really intense and brought up things that are still very real for me. Art is powerful, and it's hard to re-experience your own difficulties, especially when they are shown in very explicit and evocative ways.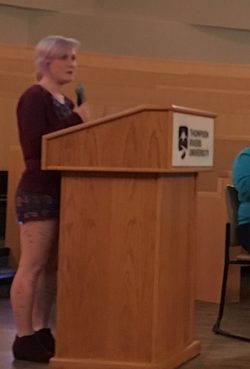 But the beautiful thing about the Art With Impact events is the opportunity that people have to actually talk about what they're seeing. They're not being left to just live with whatever comes up for them… they can process what they're going through in real time. So that was a really important part of the experience, as well. And of course, I loved speaking on the panel.
I never could have imagined that telling my story could have an impact on someone but once they tell you that it does, and you realize the extent of that impact, it feels… better. It feels like maybe there was some kind of reason to why it's happening, because now I can help someone else.
That's why I've gotten even more involved in Art With Impact as a member of the Advisory Board. It feels really good to be able to help other young people, and also use my story and lived experience to inform the films that will be going into their library and shared with thousands of students.
Nobody deserves to go through this alone.
I think the work that Art With Impact does is really important because we are having honest conversations about what mental health really is. Things are getting a little better, but I'm still from a generation that didn't know, and when you don't know something it's so much more scary and isolating.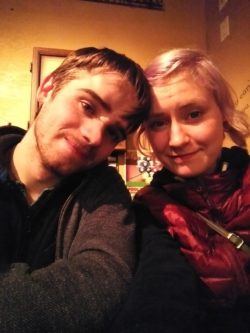 Using art to get the conversations going is one of the most powerful ways that you can actually help other people understand what it's like to live with mental illness. Nobody should have to go through mental illness alone. It's hard enough. Using art can be quite difficult at times, too, though. Because it's very real. But overall, it's a really positive experience to get the campus community together to really engage. I loved the discussion that happened. I think it's really cool when you see people start to open up and start to talk about those things. It's easier for them to connect when they're able to discuss it.

If anything, I think we just need a lot more conversations. On every single campus in this country. Because all of us have important stories, and we need safe places to share them. We need to see and be seen by our peers… see that we're not alone. I hope that more people will join the effort to talk about our mental health. Because it's such an important issue!
If people have the resources, I hope they would consider making a donation to Art With Impact, in Canada or in the United States. I've heard that for $40 someone can cover the cost of one student attending one workshop. For an experience that has the potential to open your eyes to whole new possibilities, that's pretty amazing, and so worthwhile.