INTRODUCING,
SANCTUARY SPACE

!

ONGOING CONVERSATIONS AT THE INTERSECTION OF ART AND MENTAL HEALTH

Sanctuary Space—part of Art With Impact's Continued Connections program—is a series of community events where people gather online to explore connections between art and mental health*.

With wide-ranging topics, formats, and platforms, Sanctuary Space brings together students, artists, and mental health advocates through virtual events where they can find community and growth.

Designed to promote mental wellness through the arts, some of the outcomes of Sanctuary Space include:

94%

reported that the workshop created awareness of mental health and mental illness

84%

made a meaningful connection with others

76%

left the event with new tools to support their own wellness

*We are always looking for creative ideas and volunteers to co-host a Sanctuary Space event with us. If you are interested in collaborating, please fill out this proposal form.

I enjoyed the space to sit down and create. I often don't carve out the time for myself to just create so having a scheduled time to sit down and create with others was immensely helpful. I forgot how much I enjoy/need creating.
— SS participant at What Does Joy Mean to You?

I feel like I found a likeminded community of people who genuinely care about bipolar disorder.
— SS participant at Living Creatively With Bipolar
Some Sanctuary Space events we've held in the past include:
Topic-specific discussions: Select a topic related to art and / or mental health (e.g., living with a mental illness, generational trauma, cancel culture, zine-creating, grief, poetry to move anger through and out of our bodies, exploring mental illness and stigma as depicted in horror films…) and share your perspective + expertise to create an open conversation in a moderated discussion.
Watch parties: Choose 1-3 films from our OLIVE Collection, and create interesting "feeling" and "thinking" prompts that help humans reflect on the short films.
Monthly film winner watch party premiere: Every month, we have a new mental health short film winner from our competition! In celebration of their work and adding the film to our ever-growing collection, we host an online premiere for their film to share with the community.
Art-making and DIY: Create a space for relaxed, real-time art-making such as zen doodling, writing, music, etc., to inspire some feel-good collective creativity.
Live interviews: In our Sanctuary Space sub-series and Instagram Live series, My Mental Health Story we bring on special guests to talk about their lived experience with mental illness or to share about their mental health journey alongside their wellness tips and what has worked for them in creating a manageable life. Submit your proposal here for My Mental Health Story
Additional examples of Sanctuary Space events with guest hosts: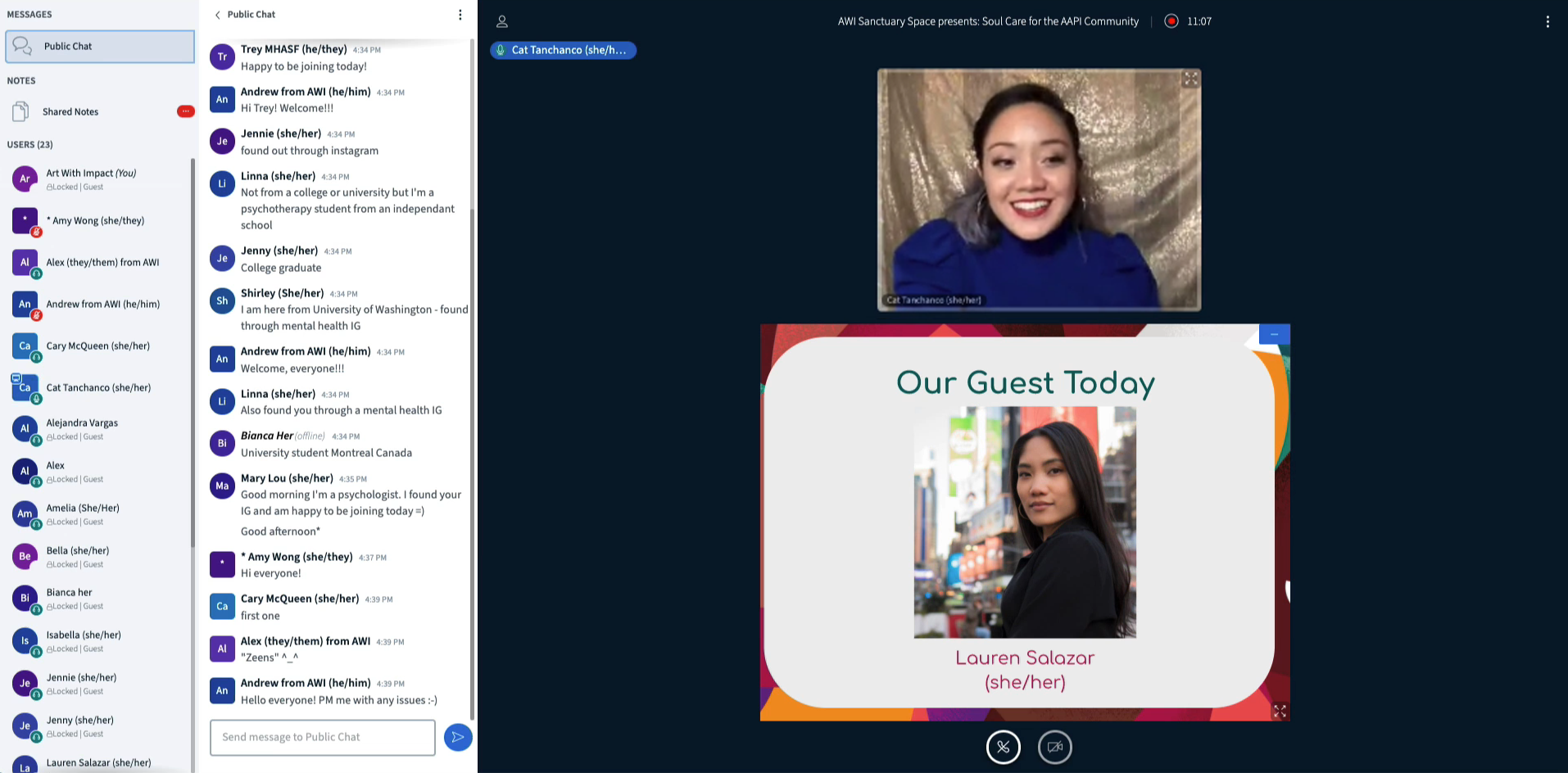 This Sanctuary Space was very relatable, and a good reminder to listen to and acknowledge how I'm feeling, especially when I feel tired or burnt out. It was a great reminder that feelings of stress and pressure are valid, even when stressors are not the most intense I've experienced before.
— SS participant at Minimalist Music for Self-Care
View some of our films that often serve as the foundation for a Sanctuary Space event
*

:

*We acknowledge that mental health is a complex topic that may evoke strong feelings. Please follow these viewing guidelines or visit these resources to take care of yourself before and after viewing our films on this subject matter.
No upcoming workshops are on the calendar... yet! Check back soon.