AWI Sanctuary Space presents: My Mental Health Story – Living With Anxiety
An ongoing Continued Connections program that creates virtual spaces for people to connect at the intersection of art and mental health.
ABOUT THIS EVENT RECORDING
What does it take to create a manageable lifestyle when you live with anxiety? What is it like to live with anxiety specifically as women of color and as mental health professionals?
Join us on Tuesday, November 22 at 2:00pm PST for our next Sanctuary Space event: "My Mental Health Story – Living With Anxiety" with special guests Kasey David and Irene Oseguera from @cultureoftherapywg
In community, they will share their lived experiences with anxiety and panic disorder. Together we'll watch and discuss short films about mental health and have an open discussion about what it's like to live with and manage mental illness, and what has helped them maintain a healthy, fulfilling, and creative lifestyles.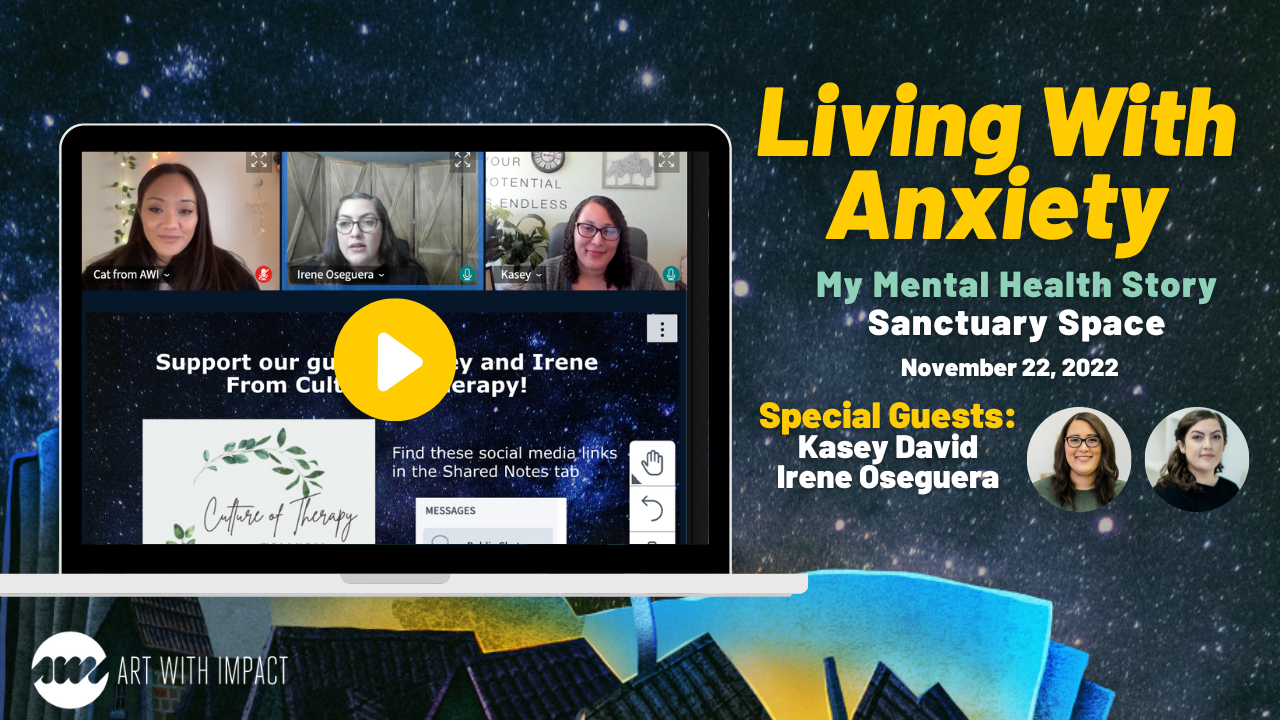 *Watch Interactive Recording:
*Please note the interactive recording plays on desktop computers and not on most mobile devices.
Mental Health Resources – Recommended during the event: 
Featured National Resources:
Crisis Text Line
988 Suicide and Crisis Lifeline
Trans Lifeline
The Trevor Project
Black Emotional and Mental Health Collective (BEAM)
Black Mental Health Alliance
Learn how to support someone else's mental health: Be There Certificate
Non-Art With Impact videos screened:
"What's Normal Anxiety and What's an Anxiety Disorder?"
by Jen Gunter with TEDTalk: Watch here
About the panelists:
KASEY DAVID – Kasey David (she/her) has 6+ years of professional experience providing mental health care, leadership and community advocacy. For the past three years, she has owned and operated a private practice—Culture of Therapy Wellness Group— providing mental health services throughout California. Kasey has intensive training from The Center for the Treatment and Study of Anxiety to the Beck Institute along with certificates in Diversity and Inclusion and Women in Leadership from Cornell University. Kasey has been a Field Supervisor for Master of Social Work students through major universities and is an Adjunct Professor at Loma Linda University, School of Social Work and Social Ecology, where she teaches at the graduate level. Kasey's clinical specialties are treating women of color with Anxiety Disorders, OCD, and Perfectionism, along with clinical supervision for pre-licensed clinical social workers.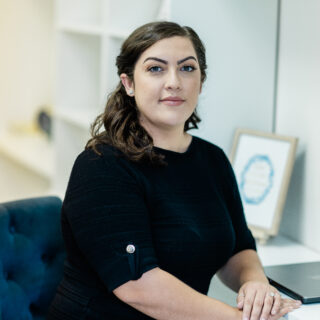 IRENE OSEGUERA – Irene Oseguera (she/her) obtained her Bachelor's Degree in Sociology, and Minor in Education in 2017. Since then, she has grown well acquainted with the interdisciplinary aspects of mental health, as she previously worked as a Measure H Community Navigator for Tri City Mental Health Authority. In this role, Irene quickly learned how to navigate various mental, physical, and other supportive systems, to connect her clients to essential resources and services. As a Measure H Community Navigator, Irene was tasked with supporting some of Los Angeles County's most vulnerable populations; the majority of which were those experiencing homelessness, or were on the verge of becoming unhoused. Irene continued to work in this position as she completed her first year of her Masters of Social Work program from Loma Linda University.
During her second year of the program, Irene decided to focus solely on developing her skills at her advanced year placement, with McKinley Children's Services in Riverside County. In September 2022, at the completion of her degree coursework, Irene had maintained a 3.97 GPA throughout her time in the program. Irene's academic accomplishments and practice skills are further enhanced by her ability to read, write, and speak Spanish fluently. Irene has also used her biliteracy skills throughout the years to support various non-profit organizations in the community, including: Pathway from Boys to Men, Inc., San Bernardino County Legal Aid, Los Angeles JusticeCorps, and many more. Irene is most passionate about working individually with first generation college graduates, as well as with millennials that experience: high functioning-anxiety, generational trauma, and/or imposter syndrome. In her approach, Irene enjoys discussing the unique experiences that are associated with the Latinx culture.