Movies for Mental Health Online
INTRODUCING, MOVIES FOR MENTAL HEALTH
ONLINE

!

SUPPORTING STUDENT MENTAL HEALTH IN TIMES OF SOCIAL DISTANCING

Movies for Mental Health (Online) is a 1.5-hour virtual workshop that focuses on empowering young adults, educators, health professionals and community members to gain a better understanding of mental health within their environment.

Knowing that art speaks the language of our interior worlds, we harness film to engage with young people on the vital topic of mental health, inspiring and empowering them to tell their own stories and access resources available to them.

M4MH Online was seamless. I felt like you all created a brave space and allowed folks, including panelists, options for stepping up and stepping back depending on our comfort level. Thank you for putting on such an amazing event, I was definitely nervous going into it, but I left feeling really hopeful and supported by my community.
— M4MH Online participant at Santa Clara University
HOW OUR
VIRTUAL MENTAL HEALTH WORKSHOPS

CAN SUPPORT STUDENTS DURING THE CORONAVIRUS PANDEMIC

In times like these, it's more important than ever to help students find safe ways to connect in genuine ways as a community and access resources available to them.

Much like our on-campus workshop, M4MH Online is designed to provide students with a safe forum to genuinely connect with themselves and others through group discussion, short film screenings, and real-time connection to mental health resources.

Having been to the live Movies for Mental Health workshop, I wasn't sure how this would be. I actually feel people felt more comfortable commenting in this online setting.
— M4MH Online participant
In response to these unique circumstances, the online version of Movies for Mental Health incorporates mind-body exercises and further emphasizes concrete tools and tips for self care.
Our software platform allows for group communication, one-on-one private messages with mental health professionals, synchronous viewing of the films from our OLIVE Film Library, links to mental health resources, and video feeds for our facilitators and panelists.
View some of our films that can help students heal during these uncertain times:
Take a look at the Movies for Mental Health (Online)
curriculum and agenda:

It is SO possible to have enriching conversations and connective discussions online. I'm so excited about the possibilities of this format.
— M4MH Online participant
Interactive introduction about mental illness, mental wellness, stigma, and the media's role in our perceptions of these experiences.
Viewing and discussion of three award-winning short films about mental health—in small and large groups where attendees can choose to type or talk with others.
Therapeutic activities that encourage participants to unplug and consciously connect their minds and bodies.
Panel discussion and Q&A with lived-experience speakers and accessible mental health resources.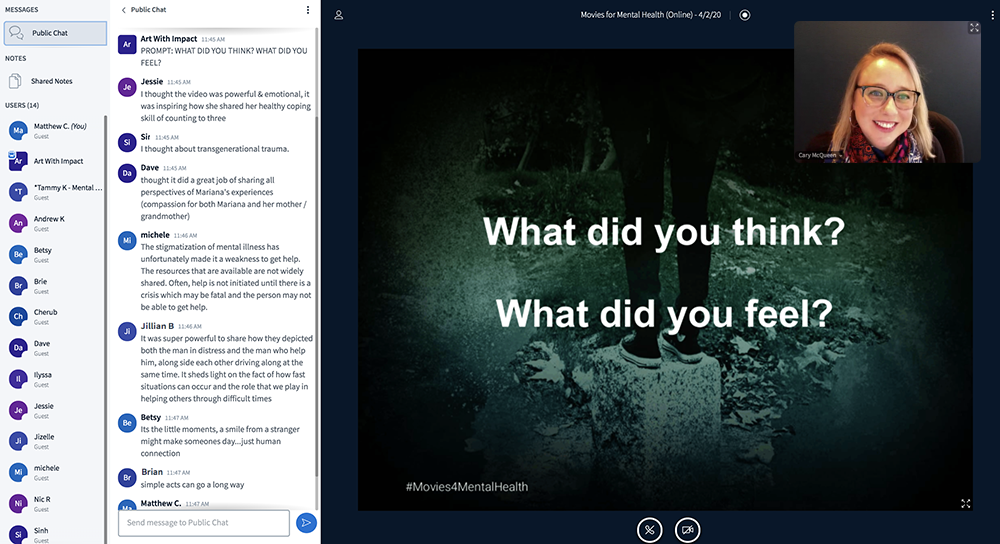 HERE'S HOW MOVIES FOR MENTAL HEALTH (ONLINE)
CAN UPLIFT YOUR SCHOOL AND COMMUNITY

This online workshop was life changing and I learned many useful things to apply to my mental health journey. Thank you!

Insightful! One of the best interactive workshops I have attended during this quarantine due to the exercises, polls, and chat box.
— M4MH Online participants from De Anza and Foothill College
We at Art With Impact collaborate with accessible resources at each step of the organizational process, closely working with on-campus organizers, taking student stories into account in the film selection process, and seeking out panelists who represent approachable services.
Because students are personally introduced to people who represent local opportunities for engagement, the young people we serve can become leaders and change-makers in the way we discuss issues related to mental health and support those around us.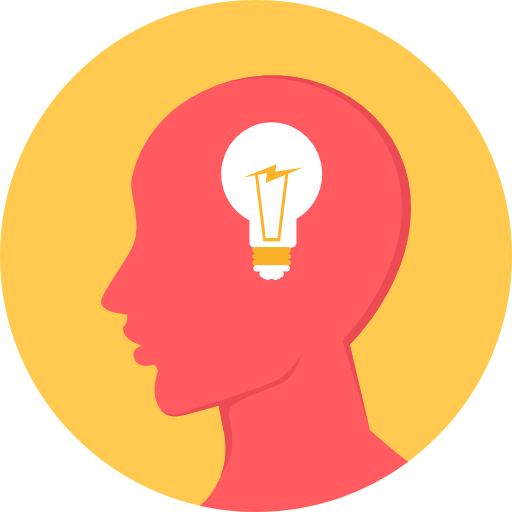 Mental Health
Education
Gain insight into the importance of language to describe our interior worlds with differentiations between mental health, mental illness, and mental wellness.
Hear perspectives around seeking support for mental health issues, personally and logistically.
Articulate cognitive and emotional responses to short films and mental health stories.
Learn about local, available mental health resources.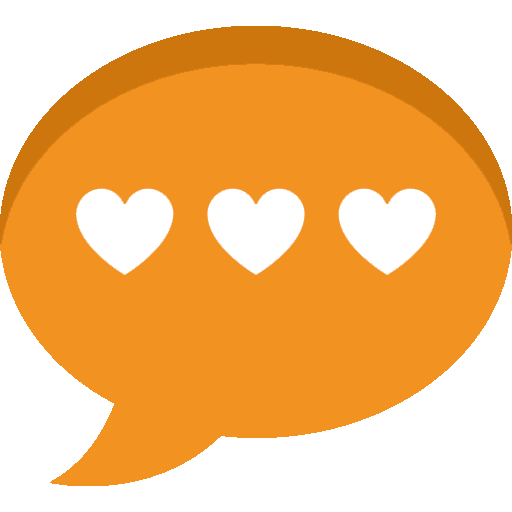 Destigmatizing
Mental Illness
Confront and address ways in which stigma impacts students and our wider society.
Reduce internalized and cultural stigma around mental health issues through .
Increase awareness of unique experiences of mental illness, and how marginalized communities might experience mental health stigma differently.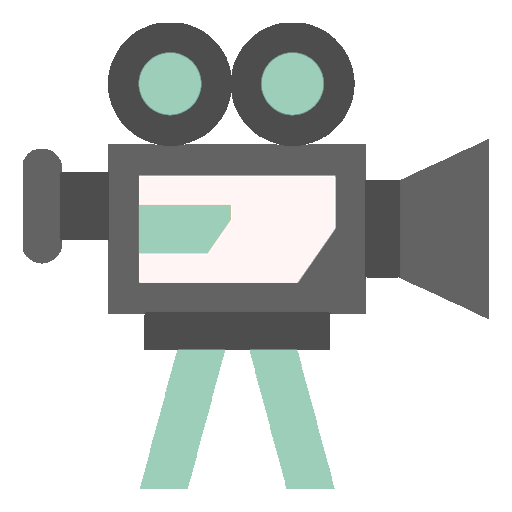 Art and Media
for Social Change
Engage in interactive analysis of the media's portrayal of mental illness.
Experience short films by independent, underrepresented communities.
Learn about opportunities to create art and use film to transform lives.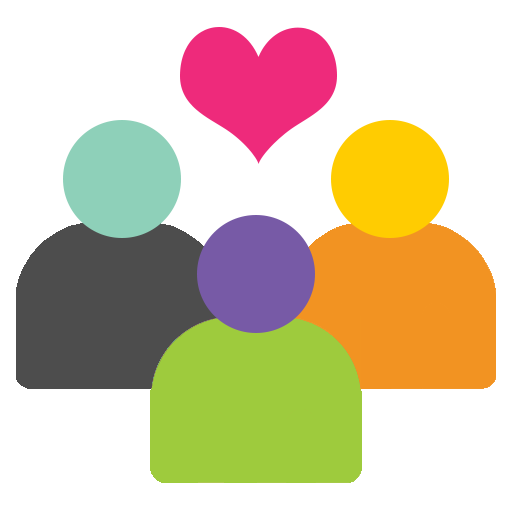 Empowered and Connected
Campus Community
Opportunity to connect with other students and reduce feelings of isolation.
Increase empathy and validation for others' experiences.
Increase intent to reach out for support for a mental health issue if/when necessary.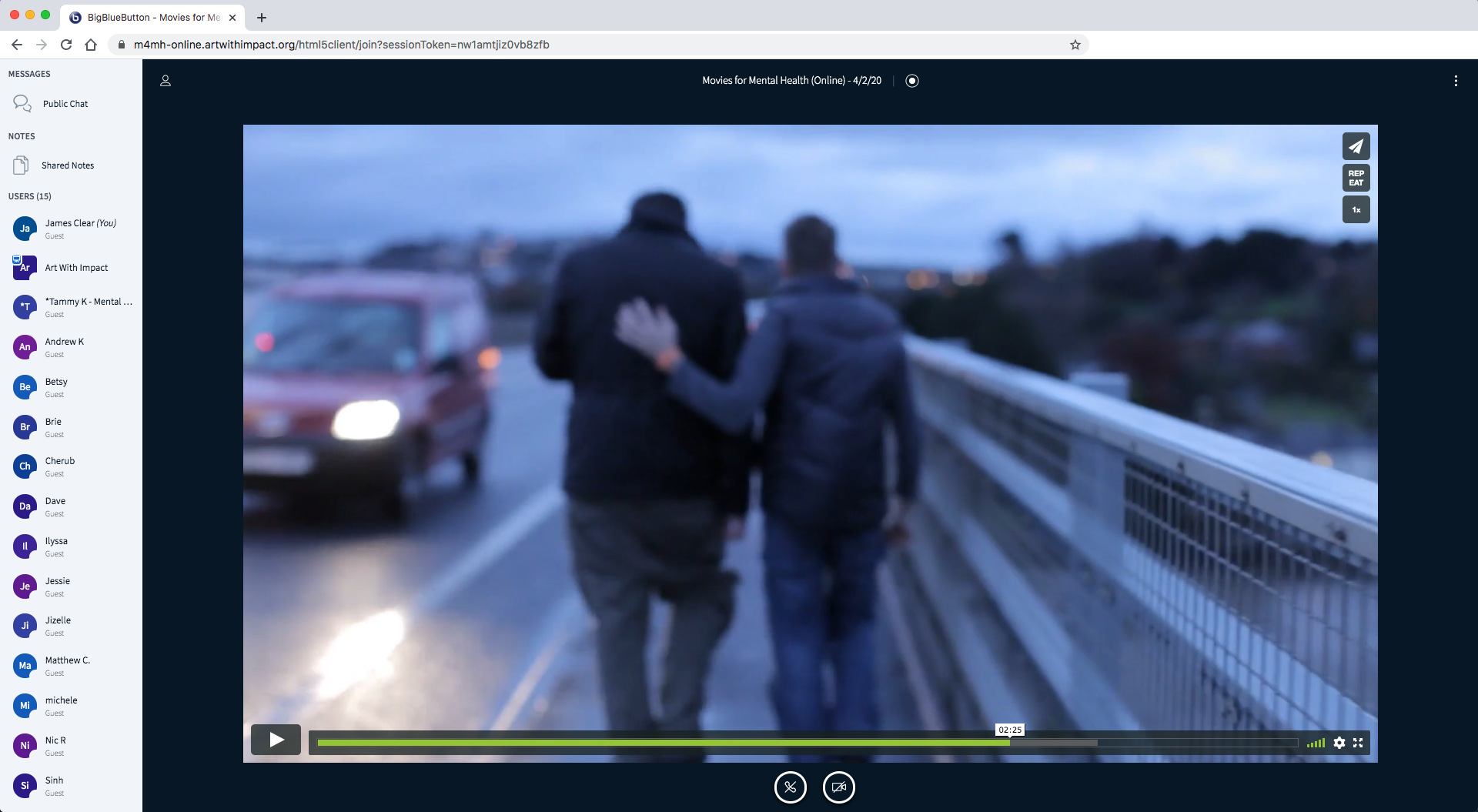 M4MH ONLINE PARTICIPANTS WATCHING OLIVE FILM WINNER, ALWAYS HOPE, TOGETHER IN REAL TIME ↑

This is an amazing workshop where you will be able to discuss mental health in a very organic and healthy way with others. I enjoyed watching the short films and seeing how others view mental health in a healthier, creative way.
— M4MH Online participant
Technical Requirements
Art With Impact handles everything on the technical side of things—setting up the registration pages, automated email reminders, and the web conferencing software—so you don't need to worry about anything other than promoting to your students, piecing together the panel, and showing up on the day of the virtual workshop!
We also have a designated support person available at every online workshop to help individuals troubleshoot tech issues as they arise without disrupting the group as a whole.
Movies for Mental Health (Online) runs on the BigBlueButton (BBB) open-source platform, hosted on Art With Impact's private server to ensure reliability.
BBB works across all major HTML-supported browsers (Chrome, Firefox, Safari, Internet Explorer, and Edge), which means participants do not need to download or install any apps or software.
Students can even join in using their mobile devices! On Android, BBB runs within the default Chrome browser on Android 6.0+ and, on iOS, within the default Safari Mobile browser.